InvestPro Cyprus Limassol 2023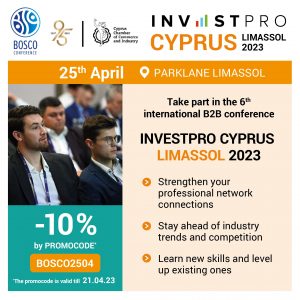 We would like to inform you that the Cyprus Chamber of Commerce and Industry (CCCI) participates as an Information Partner in the international conference "InvestProCyprus Limassol 2023" that will take place on 25th of April 2023, at Parklane Hotel, a Luxury Collection Resort & Spa in Limassol.
The conference will bring together more than 150 delegates from 20 countries around the world, specializing in the provision of corporate and banking services, asset protection, and private capital management, as well as new solutions in the areas of investment, real estate, and taxation.
Interested parties can register by clicking here.
Use the special promo code BOSCO2504 before 21 Απριλίου to get -10%.
For more information please contact Mrs. Sofia Antonova, Director of Public Relations Bosco Conference at email pr@bosco-conference.com or at telephone numbers 22008684, 22889710.